The Complete Guide to Colombian Street Food
When you're hungry and walking the streets of a relatively unknown city, street food can be your salvation. In the most unexpected place you can find some gastronomic treasure and it will blow your mind. Well, Colombian cities are full of small food cars with dishes that you may have never heard of but that will undoubtedly make you addicted to them once you have a taste. For you to enjoy the most delicious food, we want to present you a complete guide to Colombian street food. Take a look at this list and decide what is the first thing you're going to eat.
Arepa and chorizo
This is the basic Colombian combo. Arepa, one of the most popular foods in Colombia, you could compare it to bread or tortillas in Mexico, that means it's a food people eat on daily basis; and chorizo, a hefty pork sausage. You can find it on most cities and it's made on a pan right there on the street.
Arepa de huevo
We've already talked about this Caribbean typical dish (link a artículo sobre la arepa de huevo). While it's popular all around the country, you'll mostly find it on the streets of Cartagena, Barranquilla and Santa Marta. It's the go-to snack -well, it's a little bit bigger than a snack- when you want something like a breakfast but much more delicious.
Source: loquesecocinaenestacasa.com
Buñuelo
Some may say that this isn't so much a street food as it is a Christmas snack. However, Colombians like buñuelo so much that now they sell it everywhere, and especially in small bakery stands on the busiest streets of Bogota. Who would not like a delicious fried dough ball?
Empanada
If we dare to name the most loved street food in Colombia, this would be it! Empanadas are so popular that you just have to say the word, and Colombians are ready to take a break from work and have a bite of this tasty small pie filled with beef and potato.
Source: goya.com
Hamburger
This isn't so surprising. As in, perhaps, every country in the world, Colombia also has hamburger stands on the streets. Yes, they can be a little bit different than the ones in the U.S. but the basics are the same. One big difference is the price. Although they're not the best, you can find 30 cents hamburgers.
Source: publimetro.co
Pandebono
If you're in the mood of something sweet, you can have a pandebono. If you're in the mood of something homelike, have a pandebono. If you're in the mood of a snack you won't be able to put down, grab a bag of pandebonos. There's no real explanation why it happens, but you won't get enough of this Colombian starchy bread.
Source: bowllicker.com
Hot Dog
Yes, Colombians also love hot dogs. However, the big difference between Colombian and American hot dogs is the sauces. Aside from the mayonnaise, ketchup and mustard, Colombians have added some extravagant sauces to their hot dogs: garlic mayonnaise, pink sauce, pineapple sauce, chimichurri, cilantro sauce, Colombian hot pepper, among others. You can even add quail egg to the mix.
Source: univision.com
Pincho
This isn't the most popular choice when grabbing something to eat on the street. However, it's still delicious and it will leave you more than satisfied. It consists in a wooden stick with chicken, beef, peppers and onions. Pretty hard not to like it. You'll find these outside bars and concerts at 3 in the morning and you'll be glad they're there.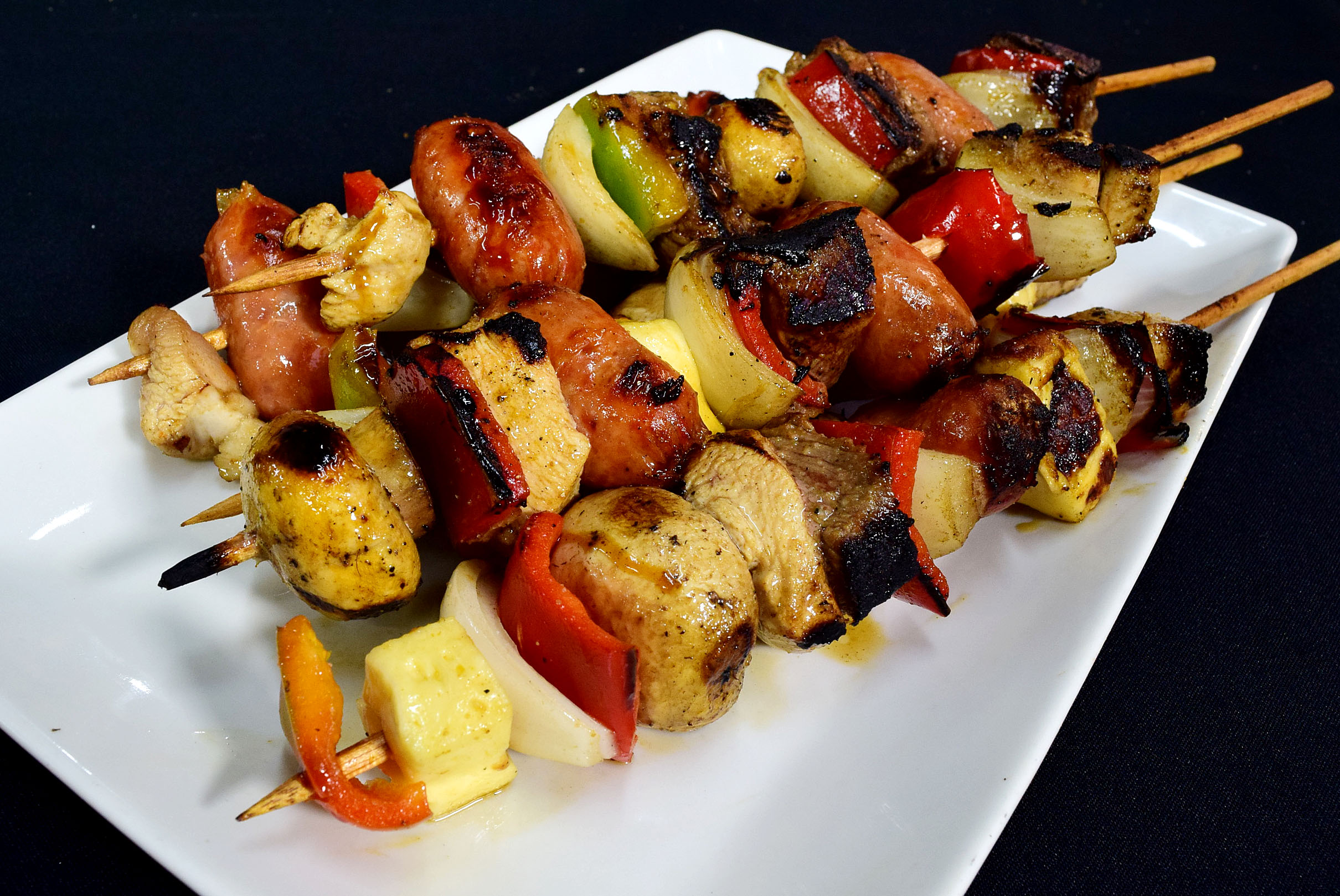 Source: cocinarte.co
Pizza
Clearly, we can't say that Colombian pizzas are the bests pizzas in the world, but we sure can argue that they're pretty tasty. Not only you'll have the mixture of pizza dough with strange Colombian recipes, but it won't be hard to find some of the biggest pizzas you'll ever seen.
Source: medellinliving.com
Salchipapas
We have to make a special mention to this Caribbean creation. Literally, "salchipapas" means "sausages and french fries", and that's exactly what you'll find in cities like Medellin and Bogota. Just a bland bowl of fries with a couple sausages. However, the true salchipapas are the ones you find in Cartagena, Santa Marta, Barranquilla and Valledupar: they're a gigantic plate full of french fries, meat, chicken, sausages, lettuce, onions and plenty of sauces. Hopefully, the rest of the country can learn how to prepare them.
Salpicon
So far, every other street food sounds like something you'll only have once every couple of weeks or else you'll have high cholesterol. Well, this one you can have everyday and it won't do any harm. Salpicon is a drink that mixes Colombian soda -"Colombiana"- or watermelon juice with pineapple, papaya, watermelon, mango, apple, banana, strawberries and grapes. If you want, you can add a scoop of vanilla ice cream. You'll find it on most Colombian cities. It's a pretty refreshing street food.
Source: youtube.com/watch?v=LrQqPmU9QqI
We think you're ready to explore the Colombian streets and enjoy some of the tastiest street foods. Prepare yourself for a feast of the traditional Colombian fried cuisine.